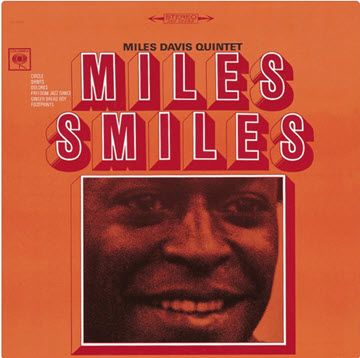 Yes, Miles Davis was a relentless innovator, with a penchant for making bold and brash statements such as "a legend is an old man with a cane known for what he used to do."
Unlike Coltrane, whose musical arc was linear, progressively becoming freer, Miles became gradually more different. Miles Smiles was recorded in late 1966 with the second great Davis Quintet: the playing is free, but the pulse is palpable, and it was before all the electric guitars and keyboards. Also, Davis wore suits; he didn't yet look like Sly Stone. With Tony Williams on drums, a young Herbie Hancock on acoustic piano, Wayne Shorter on Tenor, and Ron Carter on bass, this roster is as embarrassingly star-studded as the '92 Blue Jays. The best jazz is improvised, spontaneous, and usually this happens best live. Miles Smiles is a definite exception, and is widely regarded as one of the finest albums Miles ever made.
The album kicks off with "Orbits," a fiery, up-tempo tune. You can actually hear the melody bounce and swing and circle around, like it's under control of some gravitational force that's working hard to keep the notes circling its orbit, so strong is the swing. The trumpet pushes against this force, speedily, and with remarkably sensitive phrasing, as does Shorter's, and even Hancock just plays melody lines on this song, eschewing chords. Tony Williams joined the group as a teenager and tried to grow a moustache in order to get into some of the clubs they were playing, but the band wasn't babysitting: Miles said that Williams made him realize he needed to keep practicing. Really, Miles keeps up on this album, but Williams kept him working. Is there a better compliment for a drummer than that? It wasn't just the speed or some quantifiable measure of being a prodigy, but the originality and character of his free sense of time. Seriously, he might be my favourite musician in the group; who do you love more, Joe Carter or Robbie Alomar? Williams shines here. Ron Carter's bass just whips the pulse back and forth, poking and pushing this universe so it swings even more. That there is perfect order given all this beating of gravity, pulses, and orbits is the album's magic.
"Footprints" is a gem that the group played live frequently, often faster. The word "groove" summons to mind an emphasis on rhythm, but the groove on "Footprints" derives from the rhythm's interaction with Miles's ferociously inventive melody. It needs both. Davis plays short, sweet, syncopated chunks that build towards a larger structure, and taken together with the rest of the band it's almost too much. There are clichés and conventions in jazz, but not here. On this album, each musician is a snake: badass as hell and constantly shedding his own skin, reinventing himself but remaining recognizable.
I first heard this album in 2006 after listening to a lot of bebop when I thought Charlie Parker took invention as far as it could go. Parker did, but he never had a band like Davis' quintet behind him. While it's impossible to say anyone is better than Parker (Miles said unequivocally in his amazing autobiography that Parker was easily the best musician he ever played with), this album was immensely exciting after bebop, and even seems to be a fresher, freer, and logical extension of it. They've digested bebop but they've loosened the strictures, allowing them all to swing more.
With such nasty virtuosos this hungry, it's a must listen.